If you're a homeowner in San Diego looking to have roofing work done, then you might be interested in learning about a free roofing estimate in San Diego. Many homeowners might not know that this is an option for them, but it's best to take advantage of all of the benefits that you can get. Finding a free roofing estimate can be difficult and knowing where to look or what to look for is essential for getting started. We're going to tell you everything you need to know about getting a free roofing estimate in San Diego. 
What Is A Free Roofing Estimate?
A roofing estimate is exactly what it sounds like, which is a price estimate on roofing work, whether that be a repair or replacement. Some roofing contractors offer a free roofing estimate which includes a whole breakdown of the pricing and what you're paying for, as well as an accurate price for your particular roof work that needs to be done. If you're looking to get any roof work done, then taking advantage of a free roofing estimate in San Diego is your best bet. 
How To Get A Free Roofing Estimate
There are a few steps that you should take if you're looking to get a free roofing estimate in San Diego. Finding a contractor that offers this is the main thing that will need to happen. Not all roofing contractors offer this service, so knowing whether to look and what to look for can help in your search for a roofing estimate accurate for their situation. 
Search For Contractor 
The first thing that a homeowner must do is search for a contractor that offers a free roofing estimate. This is common, but it's important to know that not every roofing contractor offers free estimates. Finding the perfect contractor that has free estimates can help you prepare for your roofing repair or replacement. 
Ask Questions 
When it comes to talking to a contractor that claims they offer a free pricing estimate, it's best to ask a lot of questions. Knowing what to expect with the price estimate can help avoid a lot of issues in the long run. If you're not sure what to ask the contractor when it comes to a roofing estimate, here are a few examples: 
Does your company offer a free roofing estimate?

Does the estimate include full roof inspections?

Will I get a written copy of the estimate with detail on what I'm paying for?
Get The Estimate
Getting the estimate is the last step of this process. Typically an estimate will consist of a roof inspection in order to see what problems there are and gauge an estimate off of that. It's very important to remember always to ask for things to be on paper or in a contract. The contractor should also give you a full breakdown of each individual charge so that there is no confusion. Don't agree to anything without a written estimate in hand. Be sure to reach out to more than one roofing company to get an idea of what the "going rate" in the area is for your project.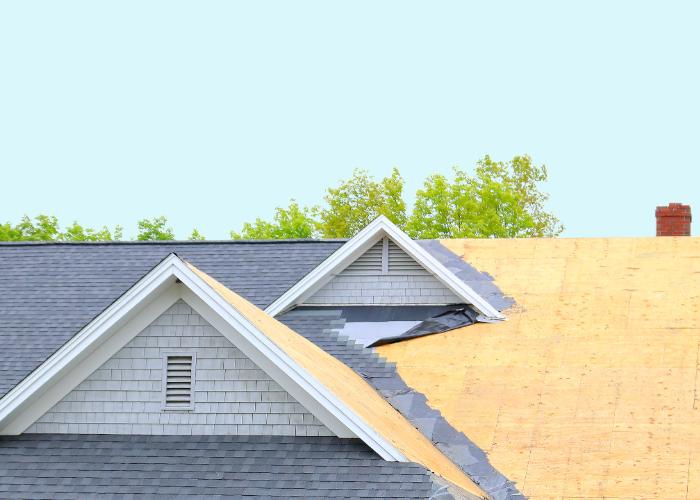 Tips For Getting A Free Roofing Estimate 
To go along with these steps on how to find a free roofing estimate, we wanted to share some tips we've learned along the way with them. These tips can help anyone go through the process of getting a free roofing estimate. 
Tip #1: Emphasize The Word "Free" 
Some contractors will offer a roofing estimate, but it just won't be free. To avoid any confusion, be sure to emphasize the word "free" and ensure with the contractor that it will indeed be free. 
Tip #2: Know What's Included
A free roofing estimate can be essential for homeowners, but many might not know what happens during them. Knowing what details to look for can help save you from confusion and miscommunication. 
Tip #3: Double Check The Estimate 
The estimate that the roofer gives you should include everything from the materials used, labor, clean-up, and everything in between. You should also ensure that the roofer does a thorough inspection before providing an estimate.  If you spot something that doesn't seem included or seems off, then you should ask about it. 
Conclusion
A free roofing estimate in San Diego is a great thing to take advantage of if you're a homeowner looking to have roof work done. Whether you need a repair or are looking to get a replacement, a free roofing estimate can help you figure out what to expect and what will be included in the project. Knowing where to begin when looking to get an estimate and following these tips can make the process a breeze. When you're in need of a free roofing estimate, reach out to the experts at Professional Roofing San Diego.